Canon 16-35mm f/4L IS USM Lens – Field Review
Though this lens has been in the market for more than a year now and there has been several reviews posted online, here is a more practically oriented "Field Review" which will help you take a better informed decision while making a choice for a good ultra wide angle lens from Canon.  I was handed over this lens by Canon India in June 2015 to do the field review on my tour to Ladakh. It offered a great opportunity keeping in mind never ending landscapes of Ladakh where most lenses fail to do justice and end up leaving out crucial elements making the final image look way too ordinary.
Canon already had its Canon 16-35 f/2.8L II USM version but it had a few concern areas, main being distortion around edges at 16mm FL. Though the other is not related to performance but its ring size being 82mm, ensured that I as a photographer have to invest in a separate filter system just for this lens.
First Impression and Few Notable Features
The first impression of holding the lens is good. Its built well and feels very nice on zoom and focus.  The best notable features are:
– Image Stabilization up to 4 Stops
– Filter size of 77mm ensures that I can use my existing set of filters.
Specifications
Before we get into the on field analysis, let's take a look at the Specifications:
Official Name: Canon Lens EF 16-35mm f/4L IS USM
Focal Length and maximum Aperture: 16-35mm 1:4:0
Optical Construction: 16 elements in 12 groups
Aperture Blades: 9 (circular)
Min. Focusing Distance: 0.28m / 0.92ft. across entire zoom range
Dimensions: 83x113mm
Focus Adjustment: Inner focus System
Filter Size: 77mm (non-rotating)
Weight: 615 gms.
Weather Sealing: Yes
Image Stabilisation: Yes up to 4 Stops of correction.
*Based on CIPA (Camera & Imaging Products Association) standards.
Field Testing
So finally here we go with our field testing.
I had a few notable points to cover which will help me analyse the performance of this lens:
– Shooting at widest angle 16mm at wide open aperture f/4
– Shooting at widest angle 16mm at close aperture f/8 and beyond
– Shooting with ND filters fitted both at 16mm, 24mm and 35mm focal length
– Shooting people at widest angle 16mm
The first shot here is taken at The Confluence in Leh. This place offers limited options in composition because of the limitation to move around to choose your angle.
This image as very less distortion (almost negligible) and was easily corrected using Lens Correction Tool.  Sharpness also around the edges is highly impressive, making this image one of my best from this place and for keeps.
Pangong Tso had been shot by thousands and given the topography of that place, its again very difficult to come back with different looking images. This image was shot early in the morning at 6 AM while taking Sunrise images. Light was low and it was my opportunity to test this lens in such challenging situations.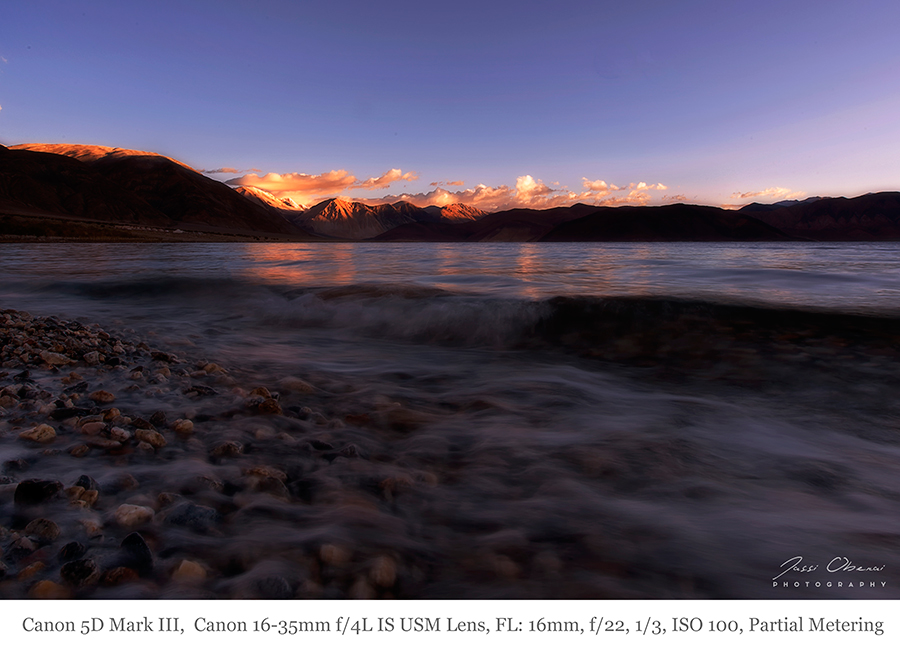 I had to close down aperture to f/22 to get slow shutter and the result has surpassed expectation with one of the sharpest images at 16mm focal length.
Here is another one of Pangong Tso taken during Sunset time and I wanted to test it along with the ND filter. I used LEE Big Stopper which cuts down the light by 10 Stops. In my previous attempts with this filter on the 16-35 f/2.8 version, I did not get satisfactory results. The image was extremely soft around the edges and also had high vignetting increasing my post processing workflow to make the corrections. Here I was again mighty pleased with the overall results.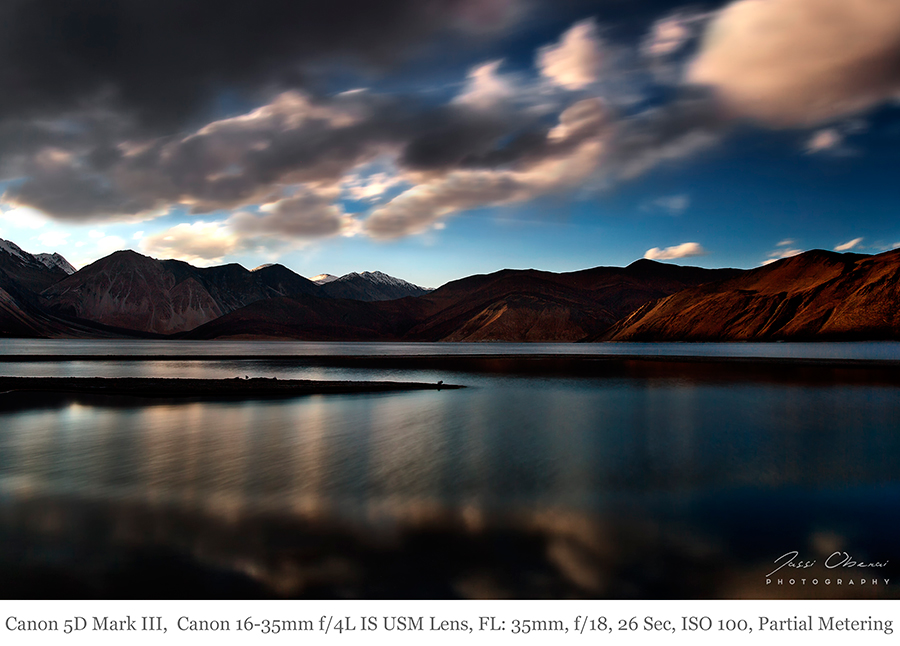 Even with Big Stopper Filter which tends to soften the image, the sharpness is impressive and hardly any vignetting seen in the final image.
Next two images were shot from Leh Palace. When  I reached there with an intention to click bird's eye view of old Leh town, the weather became overcast and light became flat making it impossible to take any good images. I had to wait for miracle to happen hoping to see lovely golden evening light to cast its magic on the city. And suddenly I noticed Sun peeping through a small opening created in thick clouds and creating a spotlight on the Leh City. Had to be quick to get these shots and the results again surpassed expectation.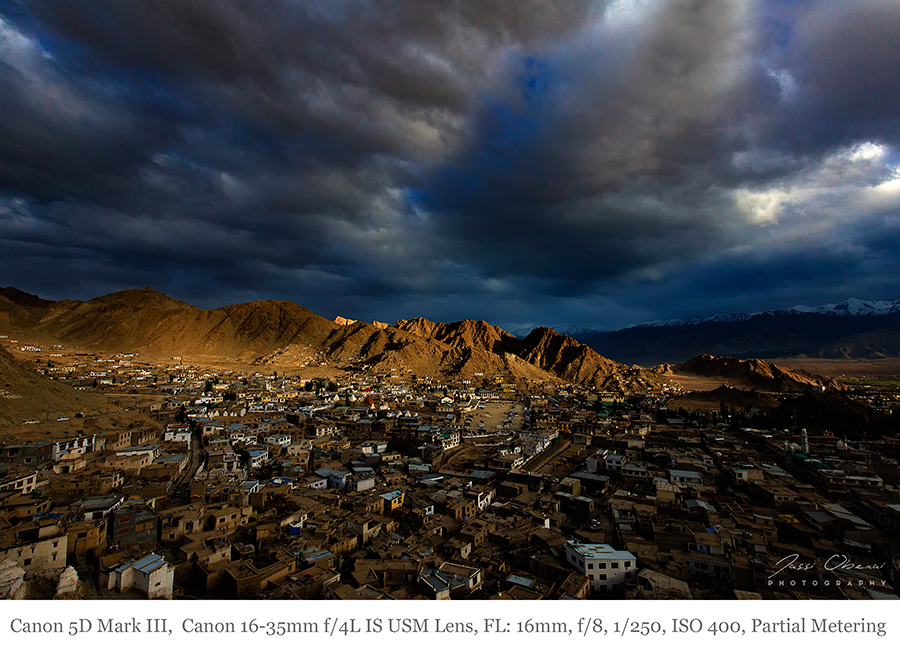 First image here is shot at 16mm and the second at 24mm and there is hardly any difference in sharpening around edges at both focal lengths.
This image is where I tried shooting human element that too keeping then near the edge of frame.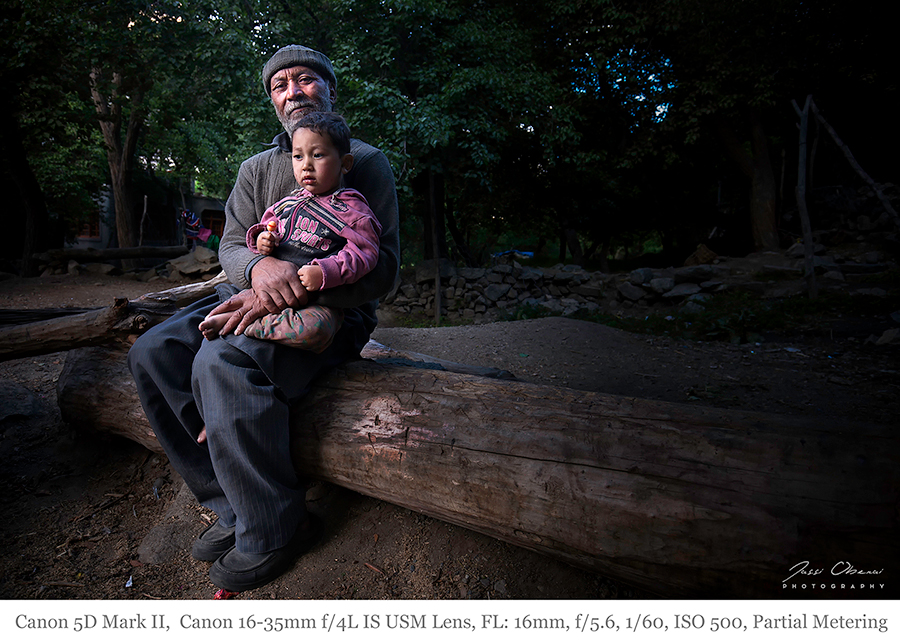 I deliberately chose this angle and placed main subject almost near the edge of frame and again the distortion is just not noticeable.
Here are two images of the same place – Thiksey Monastery. One at 16mm Focal Length and the other at 24mm Focal Length.  It was to compare the overall sharpening of the image at two focal lengths.
There is hardly any difference in the sharpness and overall quality of image at these two different focal lengths.
I tried to create "Sunstar" with this lens.  This lens has rounded 9-blade diaphragm and creates soft or muted sunstars at f/11 or f/16. You can however get the best result at f/22. And the best part is that they create the most symmetrical sunstars; the best so far that I could click. Each of its 18 spikes are so well defined and sharp.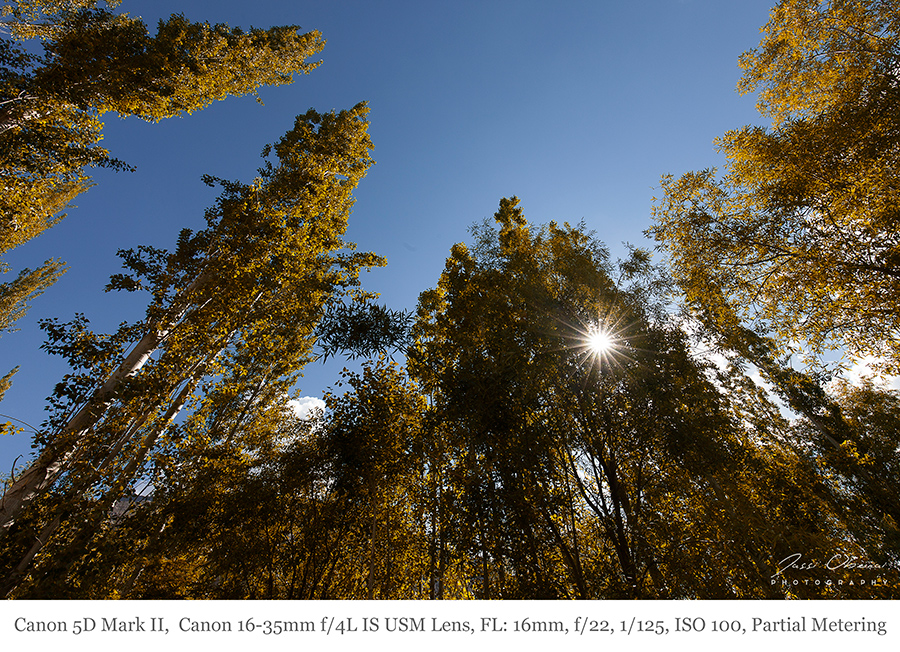 Thiksey Monastery has been shot from many angles. Here I have tried to shoot it from a totally different point of view at 16mm. Sharpness is simply superb.
Lakes in Ladakh – Pangong Tso and Tso Moriri are huge in magnitude and a photographer always has limitations while composing lakes of such magnitude.  Here I have used this lens to show a perspective of Tso Moriri which is rarely seen and was mighty pleased with the final result.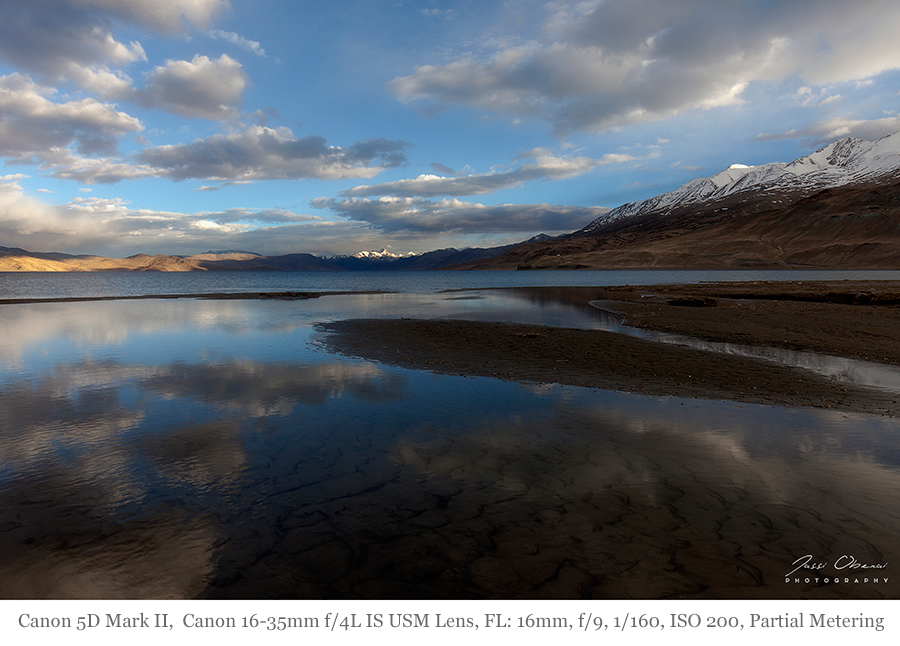 Here are some more examples to show how this ultra wide angle lens helped me capture the vastness of the barren landscapes of Ladakh with almost perfect edge to edge sharp image and negligible distortion.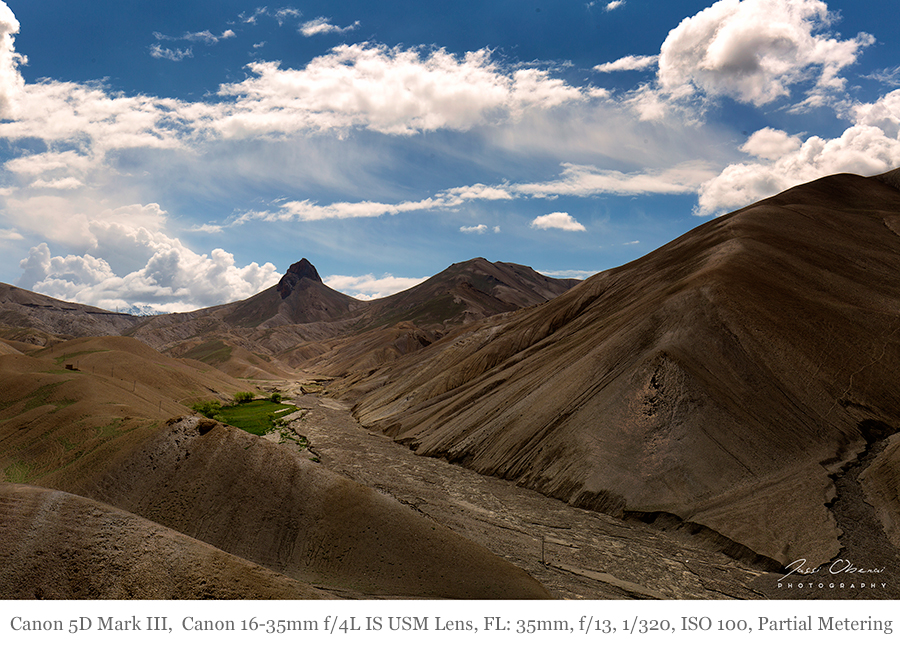 And in the end let me share an experiment I did with image stacking. This technique is usually used in creating star trails but I used it in normal long exposure landscapes. I used LEE Big Stopper to get 30 Sec. exposure and shot 13 images. Later I used image stacking in Photoshop to create one image. Usually this technique tends to highlight weak areas on the image like purple fringing which might not be so prominent in single image but becomes prominent when several images are stacked. It was again heartening to see the result. There was hardly any fringing in the final stacked image.
My Inference
Canon 16-35 f/4L IS USM is a a compact, lightweight, wide angle lens with a special feature of IS which does correction upto 4 stops making it possible for me to shoot handheld even in low light situations.  Its advanced optics ensure you get best possible image devoid of aberrations and purple fringing.
This version of 16-35 scores over its predecessors like 16-35 f/2.8 and 17-40 f/4 lens in overall sharpness. I can easily say that no other Canon or Canon-mount ultra-wide angle zoom lens is as sharp as this one.
It has negligible vignetting even at 16mm even with a normal ND filter on. I tried stacking up filters like LEE Big Stopper with LEE ND .9 Soft Grad Filter and I get negligible vignetting at 16mm and almost zero vignetting if I zoom it to around 21mm and beyond.
I can easily say that its the best Ultra wide angle Option available for Canon users. Being priced significantly lower than its f/2.8 version, its a value for money.
Post By: Jassi Oberai 
Jasminder is a Photo Mentor. He is self taught photographer. Though he saw his father pursuing his hobby of photography very seriously and very closely witnessed the dark room secrets, his love for the craft started very late but when it did there was no looking back. As a photographer he does not restrict himself to any particular genre of photography. He likes to shoot mostly anything. He likes the challenge of shooting landscape one day to close up the next and dabbling with portraiture the day after. He loves nature and great use of colors. So in most of his photographs you will see wide use of vibrant colors. In his own words, "Colors can give a whole new look to something rather mundane or something we are used to. To me that's what I like the most about photography – looking at the world in new ways."
---