Mystical, magnificent, adventurous – there isn't a single befitting adjective to describe the enchanting Spiti Valley. Recently, the wanderer in me took me to this beautiful valley, wading through serene mountains, daunting valleys and majestic rivers. The spectacle was breathtaking.
It is often said that the journey is always more exciting than the destination. And never have I realized it more while galloping those treacherous miles to reach the spectacular valley. Your journey becomes all the more enjoyable with a great companion. To keep me company through my expedition was a capable, adventurous and equally dynamic Ford EcoSport. I fell in love with the car at the first sight. With those looks and even greater convenience, no wonder Ford EcoSport has been ruling the hearts and minds of customers ever since its launch. And of course, my trusted camera, that has battled all odds, was with me to capture this extraordinary road trip. I take you through the grandeur of Spiti valley, through my lens.
Spiti Valley calling…..
Way to Kalpa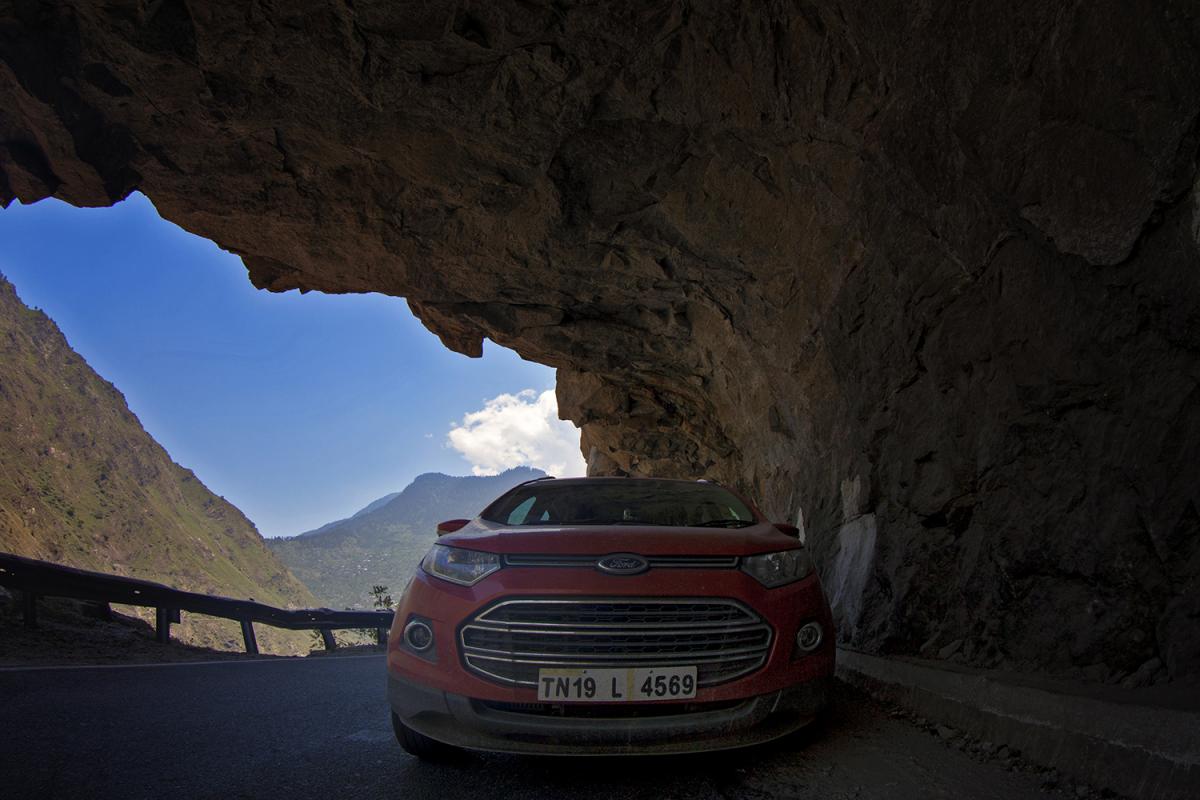 Road to Kaza wades through several exquisite beautiful tunnels. Here's a picture taken at one of the many tunnels. It was exciting day after a day of rest at Simla where I had a great relaxed evening. This day was spent mostly behind the wheel. The inclement weather, I had to scurry through the harps and bends and barely made it to my next pit stop, Kalpa before the sunset.
Way to Kaza
'You are traveling on the World's most treacherous road' – cautioned the Border Road Organization just ahead of Pooh. The challenge was daunting but thanks to my able companion the Ford EcoSport, the bends on the road didn't  feel as didn't feel as menacing.
After three days of hard labour, mostly by this great vehicle, your destination welcomes you with open arms. Welcome to the land extraordinary — Spiti Valley. Known for its rogue beauty, the valley offers all ingredients for a beautiful frame.  Road along a river, mountains capped with snow and shadows cast by low lying clouds. What else can one ask for?  I had to stop and capture this.
EcoSport compliments the beauty of Kaza-a stunning large valley with barren snow topped mountains. The evening light made the barren hills glow like gold.
Kaza Here I come…. Time to indulge in some photography!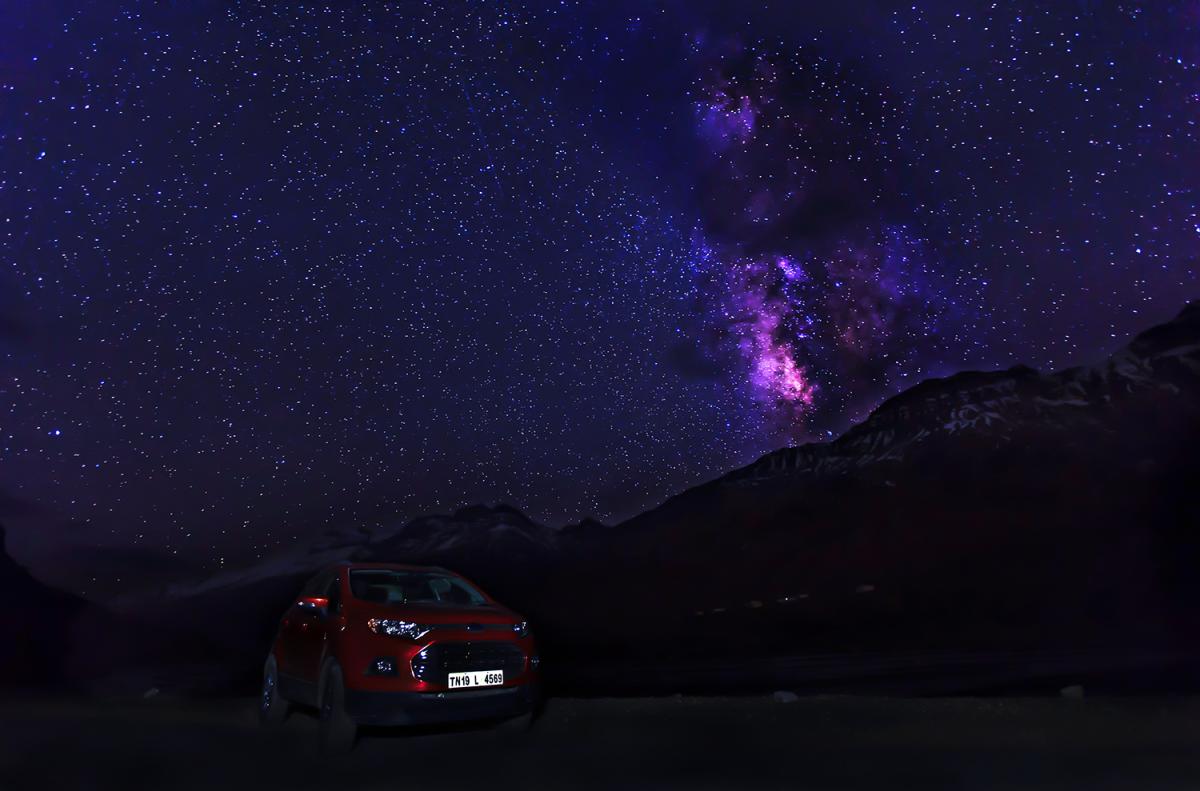 Well they say a picture says a thousand words…This one spells it through the stars!
This is one of the most special pictures. There are always few frames that capture the essence of the entire journey. These remain with you for lifetime. This picture is the reward of three hours of patience under extreme cold condition at Kaza. The temperature was below zero degree, the night breeze at its best and not to forget the wild life encounter with troop of fox. Finally at 3 in the morning I got the desired shot.
Situated in the middle of the hills is the majestic Kee Monastery.
View from Top of Kee Monastery 
Road leading to Kee Monastery from Kaza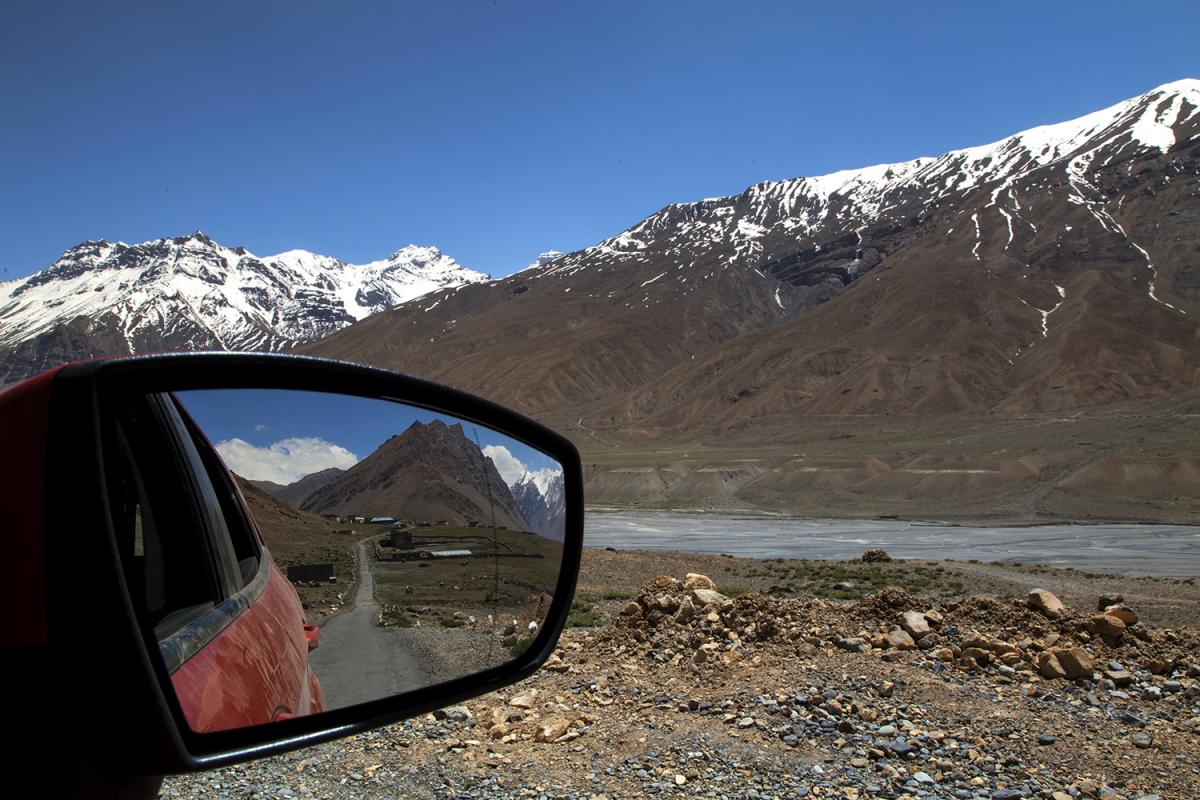 Long road to Kee Monastery, few miles covered, few lie ahead!
Truly magical place. You just want to be there forever.
A smile makes your day. A young Lama welcomes me with one of the brightest smile at Kee Monastery.
High mountain road to Khibber Village
Taking a break at the top of the world!!
Drive to Kibber village was absolutely breathtaking. It is right at the top of a hill taking me to the highest point of this journey. Kibber village is located at a height of 14200 ft. above sea level. It's a small, serene village with a population of mere 295.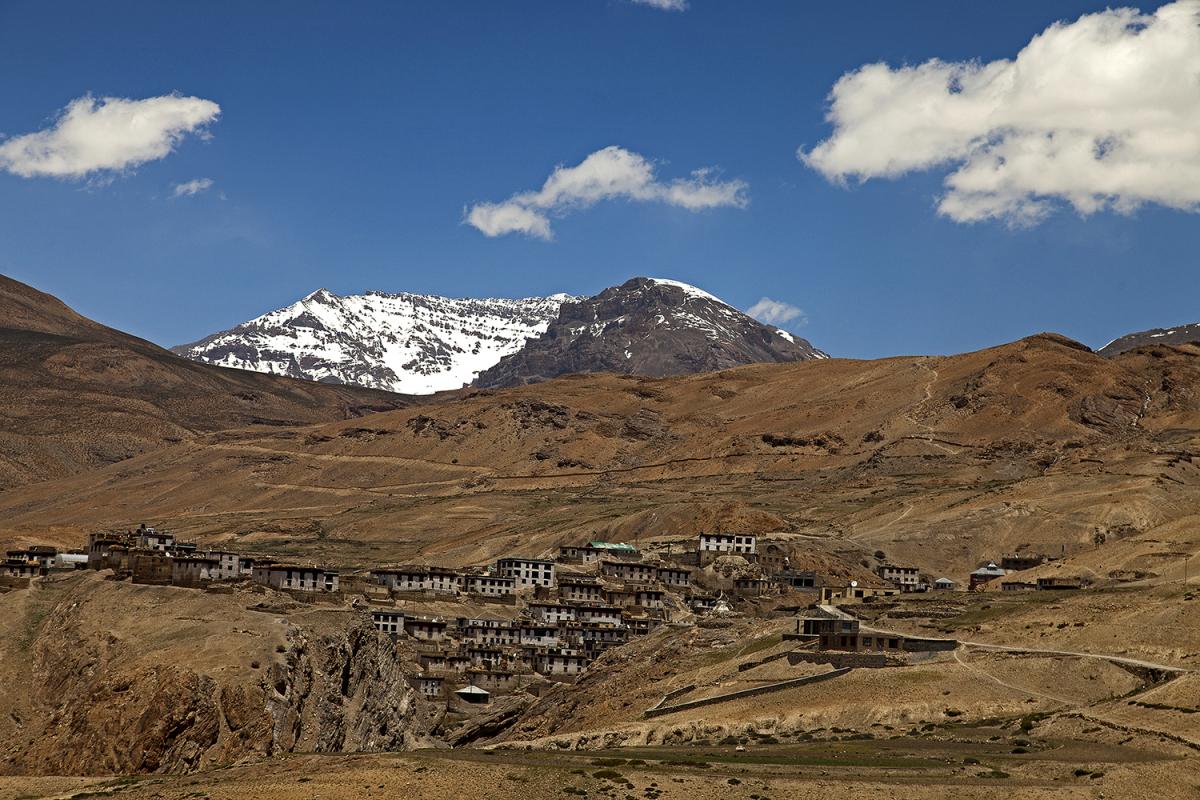 The first glimpse of Khibber Village. It was time to interact with the locals and witness their life up and close. Ki Monastery is the biggest monastery in Spiti Valley and is located at a height of 13668 ft above sea level.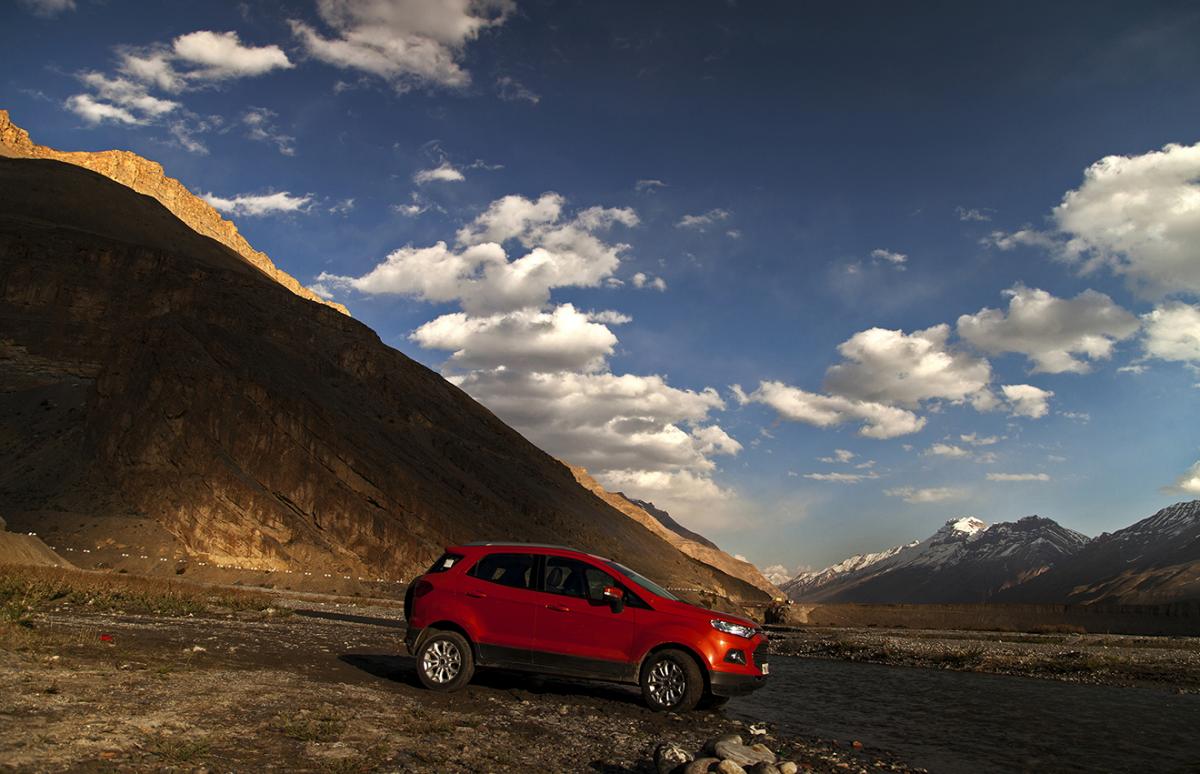 EcoSport by Spiti River bed.
Mountains are known for their magical sunset & sunrise.  The dusk is the best time to in this part of the world. Here's why!
Just before the sun hides behind the mountains here besides Spiti river at Kaza
Been There, Done That! This one is for the postcards or New Year Greetings. Take your pick.
World's highest Retail Outlet declares this sign board. Shopping at this landmark was a must. A tank full for the EcoSport and a picture for me.
While I was about to leave for Ki Monastery I saw a group of young lama boys coming out of monastery and surrounded the EcoSport. It was a great photo op I did not want to miss. I even allowed them to sit inside and feel the comfort of this beautiful vehicle. The joy on their faces was bliss to watch. Priceless moment indeed!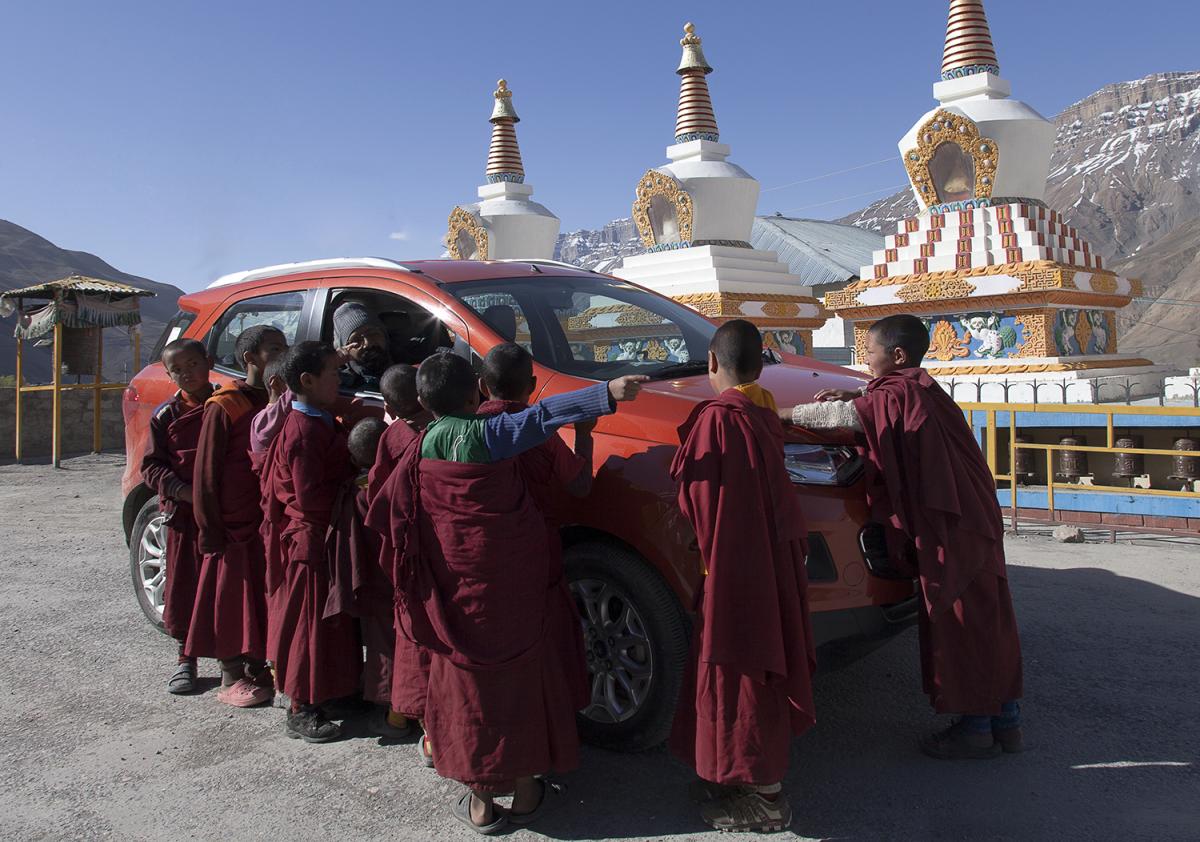 On my way back from Ki Monastery, I spotted a group of young lama boys coming out of monastery. They looked curious at something beautiful. Yes it was the EcoSport parked there. The lamas like any other teens were glued to the beauty of this car.
Seeing their excitement, I invited them to see the car from inside.  The joy on their faces was bliss to watch. Priceless moment indeed!
It was easy as the travel distance was less, though the return route was same as taken during my onward journey. I decided to halt at places different from those to the haults in the onward journey. Today, the destination was Nako via a small village Giu which is famous for a 500 + year old naturally preserved Mummy.
Road from Kaza to Giu. Terrain changes almost every 5 mins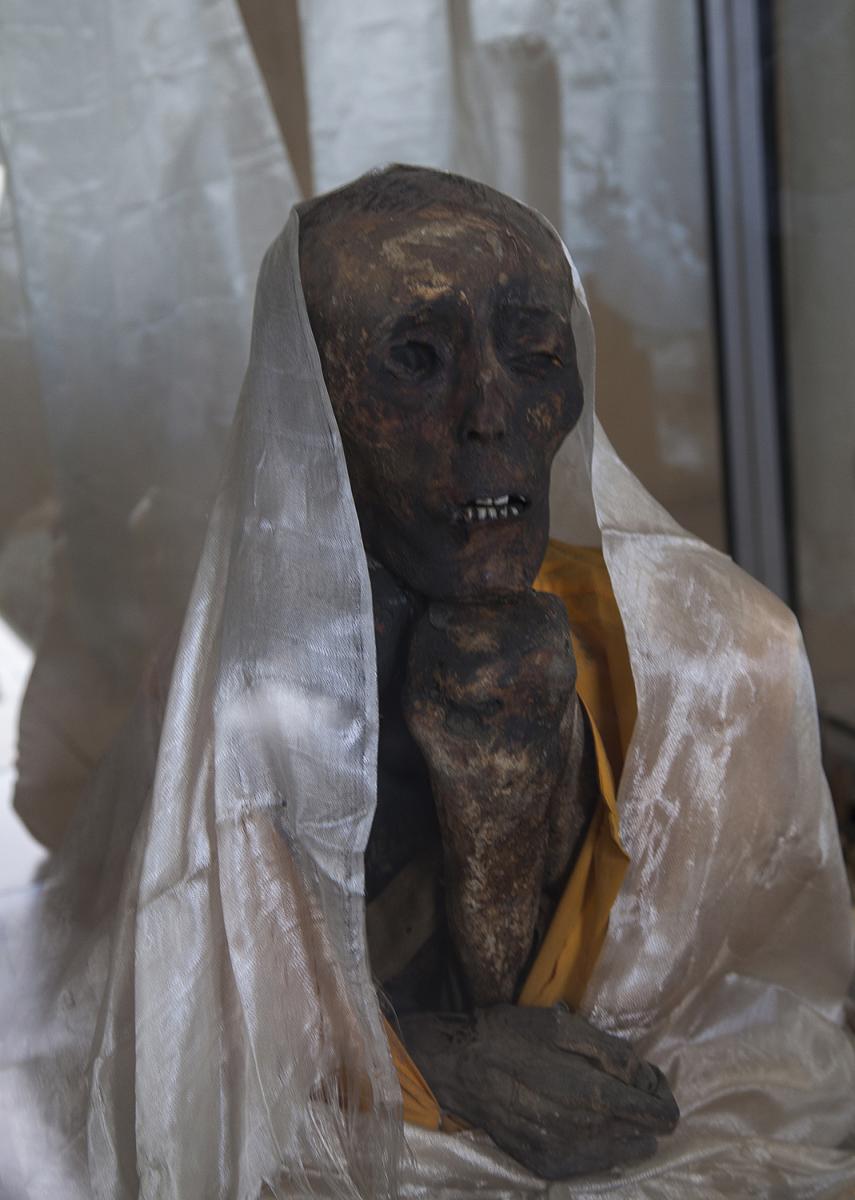 Look who I met on my way back. A more than 500-year old, naturally preserved Mummy at Giu village.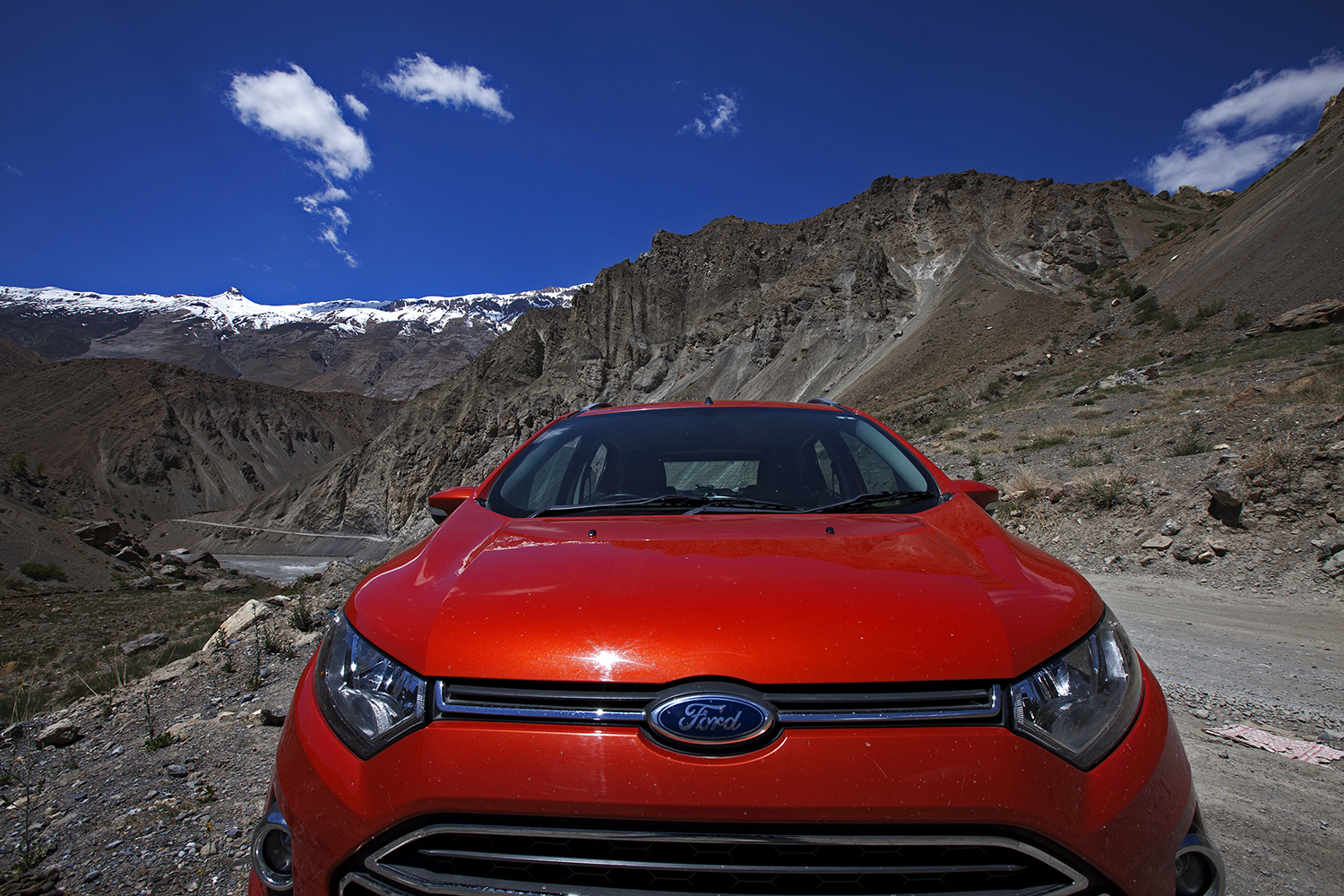 EcoSport profile pic near Nako
Giu is a beautiful village, largely untouched by the evils of commercialization. After riding through mostly katcha roads the peace and calmness at the village is soothing and relaxing. This is one of the most beautiful villages with beautiful people.
Why would one not stop at this beautiful and scenic village? Nako Village; view from my camp site. A must stop for all.
First rays of sun touch the valley. One of the most memorable morning tea I had in recent times was here at my camp at Nako village.
My next destination was Sangla Valley. The good old track was back to haunt.  This time accompanied by 7 landslides. It took 14 hours to cover this stretch of about 200 kms. Painful indeed! The entire hillock collapsed right in front of my eyes. It took over 7 hours for the road to be cleared for journey ahead.  I finally reached my campsite at 10:30 PM.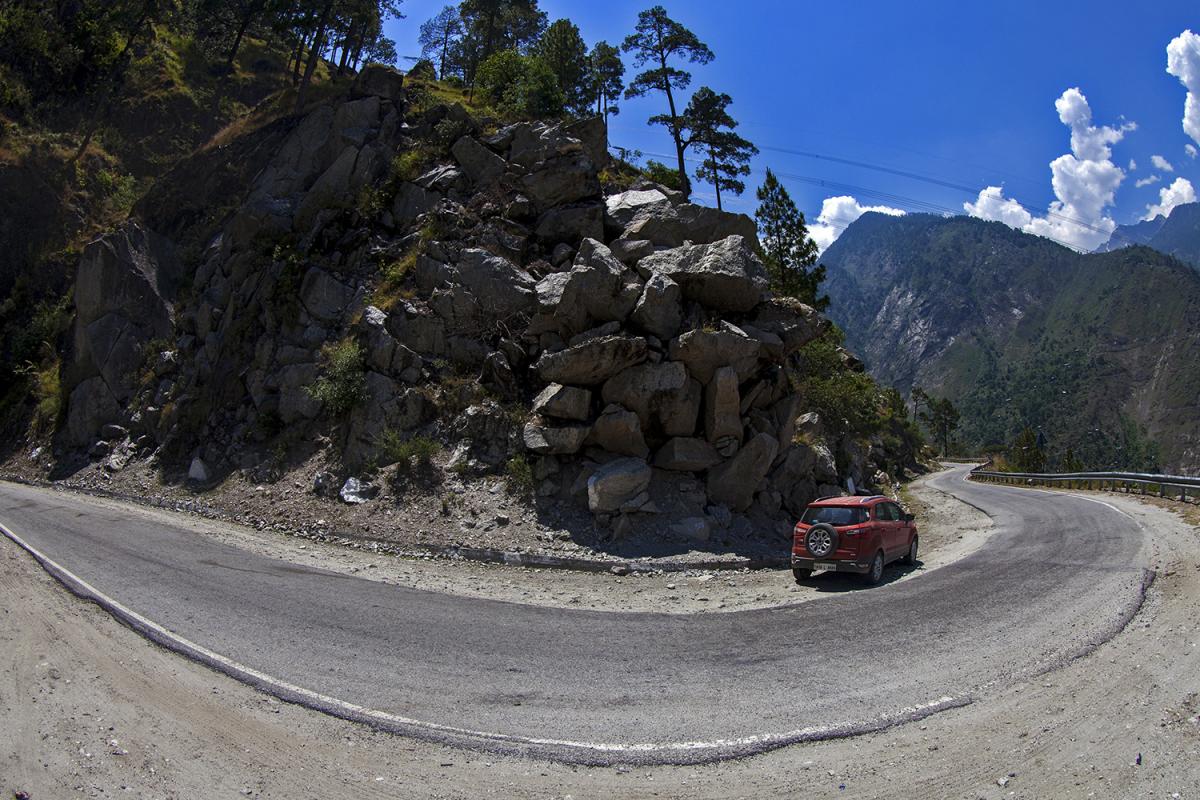 And it is time to head back.
My Verdict:
A must companion for every journey. It's a perfect urban SUV that never lets you down. It offers unmatched comfort, latest features and great fuel efficiency.
Grab one today and conquer all terrain effortlessly. Don't forget to take your camera!
Post By: Jassi Oberai 
Jasminder is a Photo Mentor. He is self taught photographer. Though he saw his father pursuing his hobby of photography very seriously and very closely witnessed the dark room secrets, his love for the craft started very late but when it did there was no looking back. As a photographer he does not restrict himself to any particular genre of photography. He likes to shoot mostly anything. He likes the challenge of shooting landscape one day to close up the next and dabbling with portraiture the day after. He loves nature and great use of colors. So in most of his photographs you will see wide use of vibrant colors. In his own words, "Colors can give a whole new look to something rather mundane or something we are used to. To me that's what I like the most about photography – looking at the world in new ways."
---